Gilbert & Sullivan
Gilbert & Sullivan were acclaimed English theatrical collaborators known for their popular and entertaining operettas in the late 19th century. Together, librettist William Schwenck Gilbert and composer Arthur Seymour Sullivan created a body of successful and enduring works between 1871 and 1896, combining witty, satirical lyrics with memorable melodies.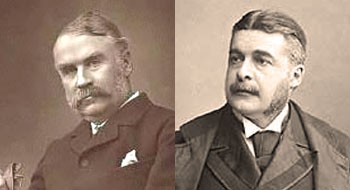 Gilbert, born in London in 1836, began his career as a successful writer of comic verse and plays. Earning a reputation for his sharp wit, satire and clever wordplay, he went on to become an accomplished dramatist, poet and illustrator. Sullivan was born in 1842 in Lambeth, London and displayed his remarkable musical talents from an early age. He began studies at the Royal Academy of Music at the age of 14 and later gained recognition as a composer of both serious and light music.
The G&S artistic partnership began in 1871 with the one-act comic opera Thespis. But their breakthrough came in 1875 with the next collaboration, Trial by Jury. What followed then was 12 more comic operas, all often referred to as the Savoyard canon, named for the Savoy Theatre where they were originally performed.
Their "big three" were wildly popular hits with everlasting appeal: HMS Pinafore (1878), a satire on the British class system and the Royal Navy, The Pirates of Penzance (1879), a humorous tale of pirates and mistaken identity and The Mikado (1885), a parody of British bureaucracy that happened to be set in Japan.
The Gondoliers (1889), a light-hearted story of love and royal confusion set in Venice, was considered to be their last great success.
Gilbert's librettos were characterized by their satirical and humorous nature, often poking fun at English social conventions, politics, institutions and the upper class. His witty and clever lyrics provided a perfect complement to Sullivan's melodic compositions, which blended classical elements with snappy tunes and memorable choruses. Sullivan's music showcased his exceptional talent for melody and orchestration, combining lively rhythms with beautiful harmonies.
Gilbert & Sullivan's operettas were famous for their memorable characters, absurdly comedic situations and sharp dialogue. They satirized Victorian society while entertaining audiences with catchy songs, fanciful settings and wacky scenarios. As a result, their shows enjoyed great popularity and can be considered as the start of modern musical theater.
Despite (or because of) such tremendous success, creative differences and personal tensions between the duo often percolated and flared up. In 1890, they had a falling out and each pursued separate projects for a while. However, they eventually reconciled and resumed working together, although with much less success than their earlier collaborations.
Sullivan passed away on November 22, 1900 and Gilbert died on May 29, 1911. Their legacy of topsy-turvy humor, biting satire and beautiful music has entertained generations. Even today, their operettas remain popular and continue to be performed around the world as beloved and timeless classics of musical theatre.
Additional Links
The Gilbert & Sullivan Archive
The 14 G&S Plays on Project Gutenberg