Board of Directors
R. Alan Macksey, Jr. – PRESIDENT
Carol Campbell Haislip – VICE PRESIDENT
Michelle Harvey Hill – SECRETARY
Kathy Mardaga – TREASURER
Brian Goodman – GENERAL MANAGER
Fallon Goodman – ASSISTANT GENERAL MANAGER
Todd Douglas
Chris Flint
Kelly Hughes Iverson
Mark McGrath
Luther Petry
Wendy Post, M.D.
Serena Savage
Marylou Sigler Frey
Anne C. Stuzin

---
Theatre Staff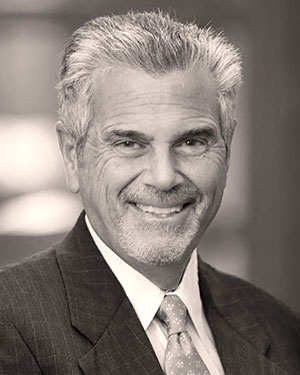 Brian S. Goodman

General Manager
2023 marks Mr. Goodman's 46th consecutive year as General Manager at the Young Vic.
During that time, he has overseen the theatre's development from a semi-professional, partly-student organization to a fully independent company, complete with a permanent endowment and independent Board of Directors.
Mr. Goodman is a partner in the law firm of Goodman & Donohue, where he specializes in products liability defense work, general liability work and insurance law. He has been named a Super Lawyer from 2009 to the present in the field of general litigation.
Mr. Goodman is also general counsel to the National Association of Public Insurance Adjusters and was honored as its 2005 person of the year.
His daughter Fallon is a graduate of Bryn Mawr School, where she starred in A Funny Thing Happened on the Way to the Forum. She was also featured as Fleta in Young Vic's Iolanthe (2010). His wife Laurie holds a Masters of Fine Arts in Children's Literature from the Vermont College of Fine Arts.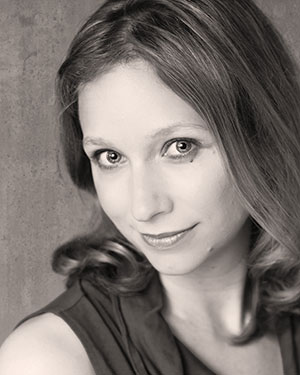 Catrin Rowenna Davies

Artistic Director
Catrin Rowenna Davies, director, mezzo-soprano, and arts administrator, has been an opera professional since 2001. Described by the Baltimore Sun as having "bright vocalism and flawless diction," she has established herself as a presence both on and off the operatic stage. Born in Washington, DC, and possessing British citizenship, Ms. Davies has lived and performed in the United States, Canada, and the UK.
A self-identifying G&S fanatic, Ms. Davies is thrilled to be the Artistic Director of the Young Victorian Theatre Company, after a long association with group: 10 roles and 1 assistant directorship over the course of almost 2 decades. In addition to Young Vic, she been in staged productions of almost all of the operettas (including The Grand Duke), has performed at the International Festival of Gilbert & Sullivan in Buxton, England, and has lectured on G&S for Elderhostel/Road Scholar.
Ms. Davies started her directing career in 2007 by assisting director Garnett Bruce in Peabody Opera's Les Contes d'Hoffmann. That same year, she directed the Old Maid and the Thief for Harbor Opera at the Walters Art Museum, and assistant directed HMS Pinafore at the Young Victorian Theatre Company. After this auspicious beginning, she embarked on a successful regional career. Most recently, she directed Hansel and Gretel for Bel Cantanti. She was also selected to be a part of the inaugural class of the Directors' Studio at the Shakespeare Theatre Company, under the mentorship of Michael Kahn. Other highlights include: directing The Three Little Pigs, the educational outreach show for Opera Delaware, and assistant directing the world premiere of Bornfield's Camelot Requiem. At Lyric Opera Baltimore, she directed Jake Heggie's At the Statue of Venus, and also directed two outreach programs. At Live Arts Maryland, she has directed South Pacific, Man of La Mancha,The Fantasticks, Fiddler on the Roof, Oklahoma, Secret Garden, Kiss Me Kate, and HMS Pinafore, the latter for which she received the following accolade from The Capital: "The staging and directing was handled absolutely brilliantly by Catrin Davies…" Ms. Davies is proud to be the resident director of Summer Garden Opera, and has directed La Traviata, Il barbiere di Siviglia, and Faust for that company.
In the academic realm, Ms. Davies has been on faculty at the Peabody Conservatory, and Towson University, and was the primary director for Peabody's educational outreach opera for schools over the past 7 years. Ms. Davies holds an honors degree in history from McGill University, a Master's degree in Women's Studies from Oxford University, and graduate diplomas from the Royal Welsh College of Music and Drama, and the Peabody Conservatory.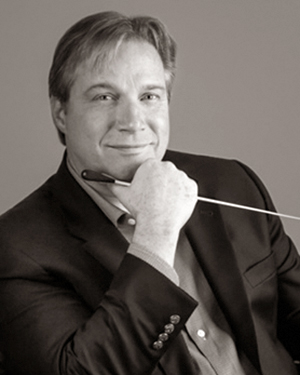 J. Ernest Green

Music Director & Conductor
J. Ernest Green is the Artistic Director of Live Arts Maryland and the Music Director of the Annapolis Chamber Orchestra and Annapolis Chorale. He served as a Cover Conductor with the National Symphony Orchestra at the Kennedy Center for the Performing Arts, where he worked with such artists as Metropolitan Opera star Denyce Graves, Sir James Galway, Pinchas Zuckerman, Stanislaw Skrowaczewski, Osmo Vanska among others. He received acclaim for conducting the National Symphony Orchestra for a subscription weekend's last-minute call with less than 20 minutes notice!
As a Pops Conductor, he worked with and conducted for the late Marvin Hamlisch. In January 2013, he conducted the Pittsburgh Symphony Orchestra's tribute to Mr. Hamlisch, featuring Idina Menzel, Robert Klein and Lucie Arnaz, Maria Friedman, Brian D'Arcy James and Klea Blackhurst. In fall 2012, he was the Musical Advisor for the Memorial Concert for Mr. Hamlisch at The Juilliard School where he worked with Mike Nichols, Liza Minnelli, Aretha Franklin, Chris Botti, Kevin Cole, Maria Friedman, Lang Lang, and Barbra Streisand.
Mr. Green work conducts for Late Night Music Director Paul Shaffer and Valerie Simpson (of Ashford and Simpson) for his symphony show. They have done shows with the Kalamazoo Symphony, and Vancouver Symphony. He also recorded a live CD, "Play It Again Marvin" – featuring the music of Marvin Hamlisch which was released released in 2018 on Varése Sarabande.
Recently, Mr. Green was the Musical Supervisor and Conductor for a new production of Sweet Smell of Success at the Hudson Theatre on Broadway. In June 2013 he was the Music Director and Conductor for One Singular Sensation a Broadway celebration honoring Mr. Hamlisch at the Hudson Theatre featuring, in addition to the artists listed above, Donna McKechnie, Marissa McGowan, Matthew Morrison, John Lloyd Young, Stephanie J. Block, Teal Wicks, Capathia Jenkins, Michael Douglas, Bernadette Peters, and Joel Grey.
Known for his adventurous and creative programming as he pushes the boundaries of the concert hall, Mr. Green has created several "fusion" programs combining standard concert repertoire with popular and contemporary music, which he has lead with orchestras both here and abroad. In addition, he has received acclaim for his concert productions of operas and other stage works, among them Verdi's La Traviata, Sweeney Todd and Rodgers and Hammerstein's Oklahoma! He created a new concert production of Don Giovanni.
Mr. Green has appeared with many orchestras including: The Pittsburgh Symphony Orchestra, The Philadelphia Orchestra, The National Symphony Orchestra at the Kennedy Center, The Florida Orchestra, The Kalamazoo Symphony, The Tuscia Festival Orchestra (Italy), Annapolis Symphony, Calgary Philharmonic Orchestra, Lincoln Symphony, Orquestra Sinfonica Nacional (Santo Domingo), Mesa Symphony, and the Trinity Chamber Orchestra (Cleveland). He has toured with the Ballet Arabesque (Bulgaria) Mozart Festival Opera and the Teatro Lirico d'Europa.
He is a graduate of the Peabody Conservatory of Music and while there, was a student of Frederik Prausnitz, who he was also an assistant conductor for. In addition to his musical activities, Mr. Green is an avid advocate for the arts. He has served as a music panelist for the Maryland State Arts Council and an advisor on its Strategic Planning Committee. In 2002, he was given the Performing Arts Award by the Arts Council of Anne Arundel County and, in 2012 was awarded the Lifetime Achievement Award.
Fallon Goodman

Assistant General Manager
Fallon Goodman was born to Young Vic's own General Manager Brian Goodman and his wife Laurie on October 12, 1992, and the rest is history. An eager young mezzo-soprano, she spent her youth running around backstage, eventually made her way onstage in over a decade's worth of summer performances with Young Vic, and continued to contribute behind the scenes when she left Baltimore for college & whether it was controlling the spotlight, assisting with wigs and makeup, penning editorials, and the like.
While she has spent much of her life creating and performing music in various a cappella groups and theatre troupes, none have been so close to her as Young Vic, for this institution is like coming home. She has lived and breathed it since before she was born – Fallon's mother fondly recalls during her pregnancy Fallon kicking furiously whenever the music began. She returns this year for her second year as Assistant General Manager under the guidance of her tenured father, and she also returns to the stage as a member of this year's chorus for our 51st season and production of The Gondoliers.