The Gondoliers
2014
---
Overview
The Gondoliers played to practically full houses, with the final weekend a complete sell-out. For General Manager Brian S. Goodman, the show is "definitely one of Gilbert & Sullivan's best – I love it! Sullivan's music is gorgeous!"
Audiences raved about the production, often referred to as the last great work in the G&S canon. Also up for praise was the cast, especially the two lead sopranos, Melissa Mino and Gabrielle DeMers, along with the sets and costumes. Not to be forgotten, the orchestra and the chorus received top marks from virtually everyone attending the show.
Young Vic thanks Roland Park Country School again for welcoming us again to their wonderful Sinex Auditorium. During our two years of residence, the acoustics, the orchestra pit and the stage size all proved to be a great experience for both the performers and the audience.
Reviews
A bouncy 'Gondoliers' from Young Victorian Theatre Company
"Musically and visually, this is one of the strongest productions I can remember from Young Vic over the past dozen or more years." – Tim Smith, The Sun
---
Show Synopsis
Act I
Scene: The Piazetta, Venice (Date, 1750)
Of all the gondoliers in Venice, the two Palmieri brothers, Marco and Giuseppe Palmieri, are so handsome and have such winning ways that they have completely turned the heads of the pretty contadine (country girls). No gondolier can get married until Marco and Giuseppe have been taken out of the running! But Marco and Giuseppe are nonplussed as to how to choose their brides, and decide to solve the problem by allowing themselves to be blindfolded, whilst the contadine dance around them. In the ensuing game Marco catches Gianetta, and Giuseppe, Tessa. The remaining contadine accept their fate and pair off with the previously ignored gondolieri. Everyone runs off merrily to get married.
As they disappear, a gondola stops before the steps of the Piazetta. From it emerge the Duke and Duchess of PlazaToro, their daughter Casilda and their "suite," consisting of a single servant, "His Grace's private drum," Luiz. They are dressed as befits their noble station, but their clothes are much the worse for wear (in fact, the Duke is penniless). The Duke demands an audience with Don Alhambra, the Grand Inquisitor, and sends Luiz into the Ducal Palace to seek him.
While Luiz is on the errand, the Duke reveals to Casilda why they have come to Venice from Spain. When Casilda was a six months old babe, she was married by proxy to the infant son of the wealthy King of Barataria. But when the King of Barataria changed his religion, and became "a Wesleyan Methodist of a most bigoted and persecuting type," the Grand Inquisitor, determined that such an innovation should not be perpetuated in Barataria, stole the youthful heir to the throne and conveyed him to Venice. A fortnight ago the Baratarian King and his Court were all killed in an insurrection, and therefore the Duke and Duchess have brought Casilda to Venice to be reunited with her husband, and to be proclaimed Queen of Barataria.
The Duke and Duchess, however, are not aware that Casilda, unfortunately, is in love with someone else - none other than father's "private drum," Luiz. Left alone, the two young people express their sad thoughts of what the future must now bring.
However, when Don Alhambra arrives, he explains that when he stole the youthful Prince of Barataria, brought him to Venice and placed him in the family of a highly respectable Gondolier, who had a son of the same age, something unexpected happened. The Gondolier, through a fondness for drinking, muddled up the two children, and when the Inquisitor went to fetch the Royal Child, the old gondolier had died and there was no way to tell which was which. So Don Alhambra let things be, and both sons were raised as gondoliers, ignorant of the actual identity of one of them (whichever he is!). Now that that one is King of Barataria, Don Alhambra will send for the Prince's nursemaid, who is the only person who can tell. Since Luiz is the son of this nursemaid, he is sent to bring her to Barataria, and the Duke, Duchess and Casilda depart.
Giuseppe and Marco now return with their new-wed wives Tessa and Gianetta (respectively). Don Alhambra informs them that either Giuseppe or Marco is the King of Barataria, and that until the mystery is unravelled, they must take up the reins of government as one individual. They may take all their friends with them and give them positions at the court — all, that is, except the ladies, who must stay behind (Don Alhambra does NOT tell the gondoliers that whichever of them IS the king is actually already married). All the gondoliers clamber aboard a boat for Barataria, whilst the contadine wave a tearful farewell.
Act II
Scene: A Pavilion in the Court of Barataria (Three Months Later)
Joint Kings Marco and Giuseppe have reorganized the state on idealistic republican principles — everyone is equal to everyone else. The result is somewhat chaotic; if the new kings want anything done, they have to do it themselves.
Just as they express their longing for their wives, all the contadine run in, having broken the rules out of desire to see them. Tessa and Gianetta are anxious to know if their husbands have anyone to mend the royal socks, and which of them is to be queen. In honor of their arrival, Giuseppe and Marco announce a grand banquet and dance.
In the middle of a brilliant cachucha, Don Alhambra enters. He is astonished at the scene he sees before him, and tries to explain why their theories of government are wrong. He also announces the arrival of the beautiful Casilda, and reveals that one of them, either Marco or Giuseppe (whichever is the real King of Barataria), is an unintentional bigamist.
Tessa and Gianetta are heartbroken. Neither of them will be a queen, and one of them isn't even married! But which one?
The Duke, Duchess and Casilda now arrive, dressed magnificently. The Duke has put his social prestige to good use and has become a very profitable company, trading his and the Duchess's influence for cash. Casilda confesses to her parents that she cannot love her long-lost husband, and can only hope that, when the King sees what the Duke is up to, he will refuse to recognize the alliance.
Marco and Giuseppe enter, and the Duke chides them on their conduct unbecoming a true king. He instructs them on a superior demeanor, which they try to adopt. The Duke and Duchess tactfully leave Marco and Giuseppe alone with Casilda; Gianetta and Tessa join then, and all five attempt to figure out the highly complicated problem of exactly who is married to whom.
Finally, the entire court enters with Don Alhambra, who brings forward Inez, the foster-mother of the Prince. Inez confesses that when Don Alhambra came to steal the child, she substituted her own little boy. Therefore the child she slyly called her "son" — Luiz — is none other than the true King of Barataria. Casilda and Luiz are reunited, and Luiz crowns Casilda Queen.
The solution is satisfactory to all, especially to Marco and Giuseppe, who are free to return, happy with their wives, to the life of a gondolier.
---
Cast Bios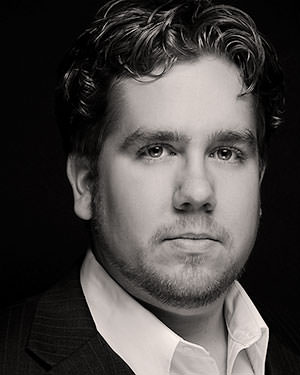 Andrew Adelsberger

The Duke of Plaza-Toro (Bass-Baritone)
Mr. Adelsberger made his Young Vic debut last summer as Dick Deadeye in HMS Pinafore. Other roles incude Dr. Bartolo/Il barbiere di Siviglia (Ash Lawn Opera, Opera Ft. Collins, Hubbard Hall Opera Theater), Don Magnifico/La Cene-rentola (Bel Cantanti Opera, Washington, DC), Benoit & Alcindoro/La Bohème (Annapolis Opera), Sacristan/Tosca, (Chautauqua Opera, Annapolis Opera), Mr. Kofner/The Consul (Chautauqua Opera) Antonio/Le nozze di Figaro (Annapolis Opera), Betto/Gianni Schicchi (Bel Cantanti Opera), Nardo/La Finta Giardiniera, Elviro/Xerxes(Maryland Opera Studio), Dulcamara/L'elisir d'amore (Bel Cantanti Opera). Andrew has performed with Lorin Maazel's Castleton Festival as Spinelloccio/Gianni Schicchi and Mat of the Mint/The Beggar's Opera. Andrew holds a Master of Music from the Maryland Opera Studio where he performed the roles of Don Alfonso/Così fan tutte and Gus O'Neil in the world premiere of John Musto's Later the Same Evening. Concert credits include; Schubert's Die Winterreise, Raphael and Adam/The Creation, as well as the bass solos in Handel's Messiah, Mozart's Requiem, Fauré's Requiem, Haydn's Paukenmesse and Nelson Mass, and the Bruckner Te Deum.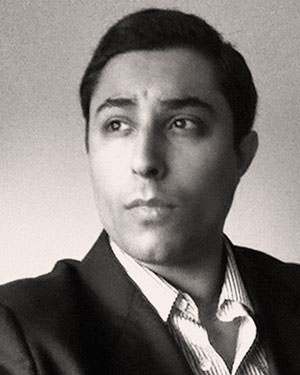 Daniel Andrews

Luiz (Tenor)
Mr. Andrews is delighted to make his first appearance this season with Young Vic. A native of Mattapoisett Mass., Daniel's career began while performing with the Youth choir and Camerata at The New England Conservatory Preparatory School. Soon after, Daniel attended the University of Delaware, where he received both his Bachelor's of Music and Master's of Music in Applied Voice. While attending the University of Delaware, Daniel has perform such roles as Frederick (Pirates of Penzance), Don Ottavio (Don Giovanni), Rinuccio (Gianni Schicchi), Fenton (Falstaff) and Rodolfo (La Boheme).
Recently, Daniel has performed as the Tenor Section Leader with the Opera Delaware Chorus, featured in such shows as Cavalleria Rusticana, Il Pgliacci, Macbeth, Les Pecheurs de Perles, and L'Elisir D'Amore. In 2013, Daniel covered the role of Malcolm in Opera Delaware's production of Macbeth. Within the last year, Daniel has had the privilege of performing with such organizations as Baltimore Concert Opera, The University of Delaware Chorale, The Cathedral Choir School of Delaware, and the Delaware Valley Chorale. Daniel looks forward to performing with Opera Delaware next season as Don Giovanni Pig, in their children's opera production of The Three Little Pigs.
Daniel is currently auditioning at major opera houses throughout the North East, and is a voice student of Dr. Blake Smith.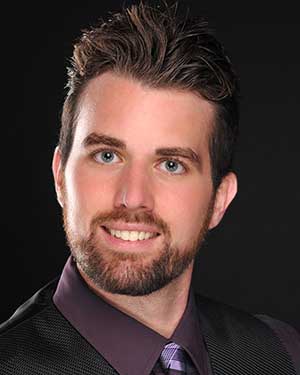 Jeffrey Williams

Don Alhambra del Bolero (Baritone)
Jeffrey Williams has been hailed by the Baltimore Sun, as "very likeable, a winning performance sung with much confidence, phrasing everything stylishly," and Miami Herald as possessing a "commanding, sizeable, effortless, manly baritone." Mr. Williams has portrayed Tchaikovsky's Eugene Onegin, Marschner's Lord Ruthven in Der Vampyr, Mozart's Papageno in Die Zauberflöte, Tchaikovsky's Prince Yeletsky in Pique Dame, Rachmaninoff's Aleko, Mozart's Figaro, and others. Mr. Williams was a 2014 Nashville Opera Mary Ragland Young Artist (where he appeared in the mainstage productions of Rossini's The Barber of Seville and Verdi's Otello and toured middle Tennessee in their outreach production of Billy Goats Gruff) and a Seagle Music Colony Young Artist. He has also taken part in the Russian Opera Workshop at the Academy of Vocal Arts, Middlebury College's Deutsch für Sänger Programm, and has done three residencies with the John Duffy Composers Institute in conjunction with the Virginia Arts Festival in Norfolk, Virginia.
Earlier this year, he was a Metropolitan Opera National Council Auditions Mid-South Regional Finalist, the fourth place winner (Cynthia Vernardakis Award) at the Orpheus National Voice Competition, and awarded an Arleen Auger Memorial Fund Study Grant. Earlier this summer, he appeared as Lionel in the Philadelphia premiere of Tchaikovsky's The Maid of Orleans. He is pleased to be returning to Young Vic for his third production with company. Mr. Williams has a M.M. in Voice Performance from the Peabody Conservatory, and a D.M.A. in Vocal Pedagogy and Performance at the University of Miami, Frost School of Music. Starting this Fall, Mr. Williams will be Assistant Professor of Voice at Austin Peay State University in Clarksville, Tenn. For more info: jeffreywilliamsbaritone.com.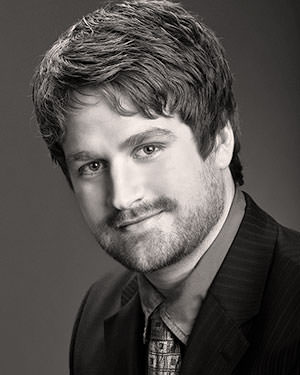 Logan Rucker

Marco Palmieri (Tenor)
Originally from Granbury, Texas, Logan is very excited to be returning this summer to Young Vic after his debut last year in the role of Ralph Rackstraw in HMS Pinafore. Logan has most recently performed the roles of Spoletta in Tosca, The Sandman and Dew Fairy in Hansel and Gretel, and The Messenger in Aida in Dayton Opera's 2013-14 season. He also performed Meleagros and Ares in Lysistrata and Don Curzio in Le Nozze di Figaro in Fort Worth Opera's 2012 Festival as well as Nanki Poo in The Mikado in 2011.
Logan has also spent the last two years with Memphis Opera in their 30 Days of Opera community opera program featured in Opera News in 2012. As well as a summer at The Crested Butte Music Festival where he sang Armored man and covered Tamino in Die Zauberfloete. He is a graduate of the Maryland Opera Studio where he studied with Gran Wilson and received his masters degree in Opera Performance. His roles with Maryland Opera Studio included Lenski in Eugene Onegin; Ferrando in Cosí fan tutte; Lysander in A Midsummer Night's Dream.
Mr. Rucker spent a few summers studying at Seagle Music Colony. His roles at Seagle have included Hoffmann in Les Contes des Hoffmann,Rodolfo in La Bohème, Ovidio in the workshop of Jorge Martín's Before Night Falls.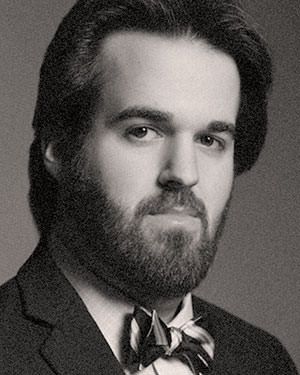 Andrew Thomas Pardini

Giuseppe Palmieri (Baritone)
From Modesto, Calif., Mr. Pardini earned an M.M. in Opera Performance from the Maryland Opera Studio and a B.M. in Vocal Performance from the University of Southern California's Thornton School of Music. Earlier this year, Andrew performed Zuniga/Carmen at Opera AACC, Figaro/Le nozze di Figaro at Hub Opera Ensemble, and Sir Richard Cholmondeley/The Yeomen of the Guard at The Victorian Lyric Opera Company. Past roles include Melchior/Amahl and the Night Visitors, Leporello/Don Giovanni, Marcello & Schaunard/La bohème, Papageno & Head Priest/Die Zauberflöte, Gianni Schicchi/Gianni Schicchi, Orlick & Pumblechook/Miss Havisham's Fire, Andreas Baader/The Last Act of Revolution, Aeneas/Dido and Aeneas, Don Perlimplín/The Love of Don Perlimplín, Marullo/Rigoletto and Samuel/Un ballo in maschera. Last fall, Mr. Pardini made his house debut at Opera Philadelphia in Verdi's Nabucco.
In November 2012, Mr. Pardini was the recipient of an Encouragement Award as part of The Metropolitan Opera National Council Auditions, Pittsburgh District. Upcoming engagements include Dr. Falke/Die Fledermaus at Poor Richard's Opera and Harlekin/Ariadne auf Naxos at The Ariadne Project. Mr. Pardini is thrilled to be making his debut with Young Vic.
Spencer Adamson

Antonio (Baritone)
Mr. Adamson's recent performances include leading roles and extensive chorus work in local opera houses. Last season Mr. Adamson performed the roles of Tonio in Pagliacci, and Alfio in Cavalleria Rusticana with HUB Opera Ensemble in Hagerstown, MD, and chorus work with Washington National Opera, Baltimore Lyric Opera, and Baltimore concert Opera. He is regularly heard ministering to the congregation of Mt. Vernon United Methodist Church in Baltimore, MD where he performs sacred and contemporary works during radio-broadcast worship services.
A believer in musical education for youth, Mr. Adamson performs in outreach programs with Baltimore Lyric Opera bringing opera to many of Baltimore's elementary schools. As a chorus member last season for Young Vic's production of HMS Pinafore, Mr. Adamson is excited to have the opportunity to return to the company with a larger role.
Mr. Adamson holds a Bachelor's degree in Voice Performance from Westminster Choir College, and graduate work at Indiana University, Bloomington.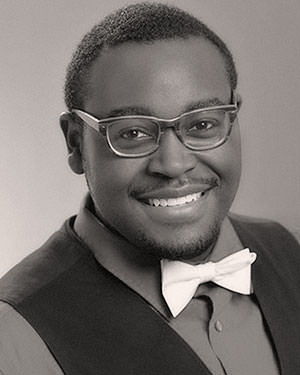 NiZel Austin

Francesco (Tenor)
Mr. Austin is a senior Vocal Performance major at Towson University, studying classical music. He has performed in several operas at Towson such as, most recently, Die Zauberflöte as Second Priest and First Armed Guard, and Die Fledermaus as Warden Frank. He has also performed in Children's Operas such as The Magic Flute as Monostatos, and Little Red Riding Hood as The Wolf. NiZel also performed roles in opera acts and scenes at Towson such as Count Almaviva in Le Nozze di Figaro, and Poo-bah in The Mikado. NiZel's passion for opera can only be rivaled by his love of musical theater. He has participated in shows such as The Wizard of Oz, The Rocky Horror Show, Rent, and a fairly new musical, The Bubbly Black Girl Sheds Her Chameleon Skin, playing the role of Gregory.
This is NiZel's second consecutive year participating in the Young Vic chorus and is enjoying being surrounded by such a talented and exciting cast, crew, and group of directors.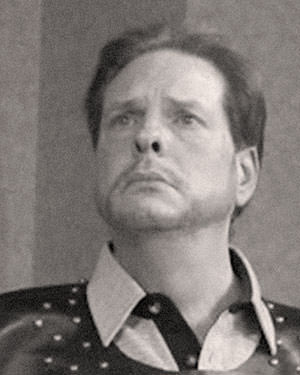 Timothy Kjer

Giorgio (Bass)
Mr. Kjer is delighted to return to Young Vic as Giorgio in The Gondoliers. He has performed with many of the leading music organizations in the Baltimore-Washington area including Annapolis Opera, Baltimore Choral Arts Society, Baltimore Opera, Baltimore Concert Opera, Concert Artists of Baltimore, Lyric Opera Baltimore, Washington Summer Opera, Washington National Opera, Washington Concert Opera, Opera Vivente and Wolf Trap Opera.
Operatic roles include Ramphis (Aida), Monterone & Sparafucile (Rigoletto), Banco (Macbeth), Bartolo (Il Barbiere di Siviglia), Taddeo (L'Italiana in Algeri), Sacristan & Angelotti (Tosca), Skeeter/Simone & Betto (The Tale of Johnny S. Kickey/Gianni Schicchi), Dottore Grenvil (La Traviata), Dr. Falke (Die Fledermaus), Alfio (Cavalleria rusticana), Roucher (Andrea Chenier), Prince Yamadori (Madama Butterfly), Lodovico & Montano (Otello). Previous Young Vic performances include Dick Deadeye in HMS Pinafore, the Notary in The Sorcerer, Sergeant of Police in The Pirates of Penzance, Giuseppe in The Gondoliers, The Usher and Counsel in Trial by Jury, and Pish-Tush in The Mikado.
Mr. Kjer is also a seasoned veteran elementary school vocal music teacher of the Baltimore City and Baltimore County public school systems. He currently teaches at Cromwell Valley Elementary Regional Magnet School for Technology in Towson.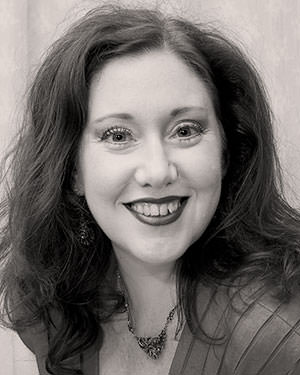 Jennifer Blades

The Duchess of Plaza-Toro (Mezzo-soprano)
Hailed as having a "juicy" and "colorful" tone as well as a "flair for comic mugging," mezzo-soprano Jennifer Blades is a versatile performer, equally at home in opera, cabaret, oratorio and art song. She is thrilled to be back with Young Vic for The Gondoliers.
Opera credits include Rosanna (The Barber of Baltimore) , Julia Child (Bon Appétit) , Alisa (Lucia di Lammermoor) , Second Lady, (The Magic Flute) , Mrs. Herring (Albert Herring) , Public Opinion (Orpheus in the Underworld) , Arminda (La finta giardiniera) , the Mother (Amahl and the Night Visitors) , Dorabella (Così fan tutte) , Bianca (The Rape of Lucretia) , the Sorceress (Dido and Aeneas) , Narciso (Agrippina) , Second Nursemaid (Street Scene) , Dinah (Trouble in Tahiti) , Donna Elvira (Don Giovanni) and Valencienne (The Merry Widow) for companies such as Opera Vivente, Lyric Opera Baltimore, Wolf Trap Opera, Baltimore's Artscape, and Opera AACC. Ms. Blades has also performed Ruth in Pirates of Penzance , Tessa in The Gondoliers , and Mad Margaret in Ruddigore with Young Vic.
An avid cabaret singer, Ms. Blades performs cabaret throughout the United States, most notably in New York, New Orleans, Chicago, and Baltimore. Currently she and music director, John Bowen, are touring with their original show, Here in the Dark. In February, Ms. Blades released her debut cabaret album, My Funny Valentine , with music director, Rick Jensen.
Ms. Blades has been a featured soloist with the Bay-Atlantic Symphony, Frederick Symphony Orchestra, Hopkins Symphony Orchestra, Handel Choir of Baltimore, the Harford Choral Society, and the Bach Concert Series. Oratorio credits include Verdi's Messa di Requiem, Beethoven's Ninth Symphony, Mozart's Requiem, the Bach Magnificat, Handel's Messiah, the Duruflé Requiem, Haydn's Lord Nelson Mass, Handel's Hospital Foundling Anthem, many Bach Cantatas, among others.
Ms. Blades is a faculty member and stage director for Peabody Conservatory's Opera Department. She teaches Cabaret Styles and Acting for Opera. For the Peabody Opera she has directed L'incoronazione di Poppea, Amy Beth Kirsten's Ophelia Forever, Pasatieri's Before Breakfast, Sokolovic's Svadba–Wedding, Argento's Postcard from Morocco, Hoiby's This Is the Rill Speaking, Bernstein's Trouble in Tahiti, Ravel's L'enfant et les sortilèges, and Conrad Susa's Transformations, as well as several Opera Etudes productions. Other directing credits include The Mikado, Orpheus in the Underworld, and a double bill of The Telephone and The Medium for Opera AACC.
She is also a member of the voice faculty at Anne Arundel Community College and has taught acting/improv for area summer opera camps including Little Patuxent Opera Institute, Camp OV, and Lyric Opera Baltimore's Opera Camp.
This spring, Ms. Blades was honored to receive a Maryland State Arts Council Individual Artist Award in Classical Performance for her performance as Julia Child in Bon Appetit. She will perform the role again in September at the Cabaret at Germano's.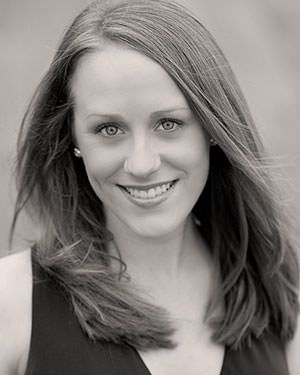 Melissa Mino

Casilda (Soprano)
Ms. Mino, is a versatile and engaging performer specializing in opera, oratorio, operetta, and concert works. 2013-2014 brought an exciting season of contemporary American opera. She most recently performed the Rachmaninoff Vocalise on the "After the Storm" benefit concert at the Kennedy Center. Earlier this year, she debuted at the Kennedy Center with the American Ballet Theatre as First Fairy in Mendelssohn's Midsummer Night's Dream.
On the opera stage, she sang the role of Sylvia in A Game of Hearts with Washington National Opera's American Opera Initiative at Opera America. Other premieres include Lost Childhood with the National Philharmonic and the title role in Maurice Wright's opera Galatea Reset. Recent concert engagements include Haydn's Creation with the Sylvan Chorale in Pennsylvania and the Brahms Requiem at the National Cathedral in Washington DC. Melissa will again be working with Washington National Opera covering the role of Rosalba in their mainstage production of Florencia in the Amazon.
A frequent performer of Gilbert & Sullivan, Melissa has been heard as Josephine in HMS Pinafore and Yum Yum in The Mikado, both with Young Vic. She is thrilled to return this summer to perform Casilda in The Gondoliers. Other opera credits include Pamina in Die Zauberflöte with Opera Camerata of Washington, Despina in Così fan tute with Bel Cantanti Opera, and Zerlina in Don Giovanni with Opera Camerata. While at Temple University, she was heard in the title role of The Cunning Little Vixen and as Monica in The Medium.
She continued her training as an apprentice artist at Sarasota Opera and at the CoOPERAtive Program. Increasingly in demand for recitals and concert work, Melissa has been a soloist with the McLean Orchestra, Fairfax Symphony Orchestra, St. Alban's Parish, Orchestra Society of Philadelphia, and Amadeus Chamber Orchestra, amongst others. A versatile performer and teacher, Melissa resides in Arlington, VA, where she maintains an active private studio. She received her M.M. degree from Temple University and her B.M. degree with a concentration in music education and French, summa cum laude, from Bucknell University. She is currently a student of Dr. William Stone.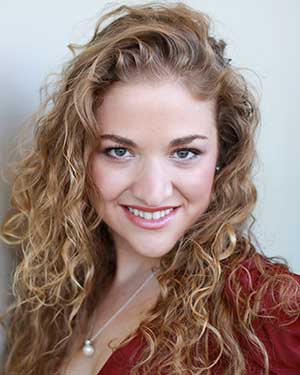 Gabrielle DeMers

Gianetta (Soprano)
Ms. DeMers returns to Young Vic after her 2013 performance as Josephine in HMS Pinafore. Gabrielle received her Masters in Opera Performance from the University of Maryland, College Park. As a member of the Maryland Opera Studio, she sang the title role in Mozart's La Finta Giardiniera and Tatyana in Tchaikovsky's Eugene Onegin.
She holds a Bachelor of Music degree from University of Southern California where she sang Betty in the West Coast premiere of Lowell Liebermann and J. D. McClatchy's Miss Lonelyhearts and Nerone in Handel's Agrippina. She has won numerous competitions and awards including first place in the Baltimore Music Club competition, fourth place in the Links of Annapolis Award from the Annapolis Opera Competition, the Opera Award from USC, and several music grants from the Santa Barbara Foundation.
She can be heard as a soprano soloist on the Universidad Navideña CD released in 2006 by EMI records. She has participated in the SongFest and CoOperative summer programs and regularly performs with Lyric Opera Baltimore. She will be making her role debut with Lyric Opera Baltimore as Kate Pinker-ton in Madama Butterfly in November 2014.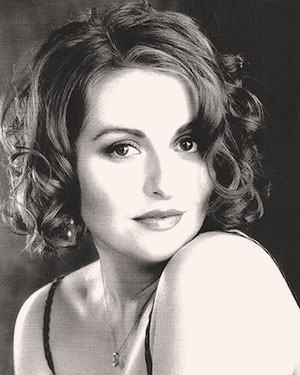 Alexis Tantau

Tessa (Mezzo-soprano)
Ms. Tantau has tremendous versatility, described as an "inspired" singer with "considerable eloquence." She holds a Bachelor of Music in Vocal Arts from the University of Southern California, where she was honored with the Outstanding Achievement in Opera Award.
Alexis became a member of the Maryland Opera Studio in 2007, where she studied with Delores Ziegler and earned her Masters of Music in Opera. Roles include Mrs. Herring in Albert Herring, Arsamene in Xerxes, Hermia and Hippolyta in A Midsummer Night's Dream, Mother in Amahl and the Night Visitors, Ottone in Agrippina, Baba the Turk in The Rake's Progress, the Fairy Queen in Iolanthe, as well as Métella in Offenbach's La Vie Parisienne with the Opéra du Perigord.
Having spent a year in France studying the endangered romance language, Occitan, she hopes to share and preserve it through music, such as Les Chants d'Auvergne by Joseph Canteloube. Alexis also enjoys performing jazz and blues, and her voice has been described as "many instruments in one." In May, she performed a cabaret devoted to the life and music of Edith Piaf on the University of Notre Dame's Saturday evening concert series.
Other francophile indulgences include an entire program of mélodies by composer Reynaldo Hahn, and numerous recitals of French chamber music. Her newest project ventures further into French and American jazz with the DC/Baltimore group Maladie d'Amour, which performs this summer at Petit Louis Bistro in Columbia on Wednesday evenings.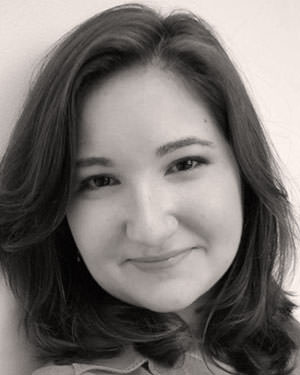 Ashley Larkin

Fiametta–July 12, 20 (Soprano)
Ms. Larkin is currently a student at Towson University. She studies under Teri Bickham and was last seen as the Queen of the Night in The Magic Flute at Towson University. She also has performed Susanna in Le Nozze di Figaro, Act II in Towson's performance of one acts. She has also performed the role of Barbarina with Bel Cantanti Summer Festival and is excited to be in this production of The Gondoliers.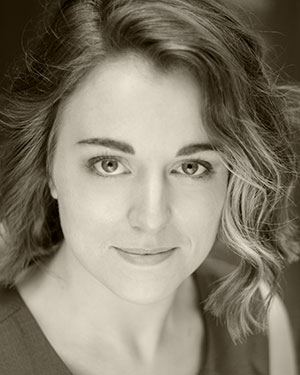 Ava Toppo

Fiametta–July 13, 19 (Mezzo-soprano)
Ms. Toppo is currently completing her undergraduate work at Towson University under the vocal coaching of Terry Eberhardt. Ms. Toppo has appeared in roles ranging from The Second Lady in Die Zauberflote to Sally in Hand of Bridge, as well as Ado Annie in Roger's and Hammerstein's Oklahoma! Next year she will appear in Towson University's Music for the Stage program as the Mother in Amal and the Night Visitors and Balkis in Randall Thompson's Solomon and Balkis. Most recently, Ms. Toppo was chosen as the 2014 Voice Division Talent Award winner at Towson University.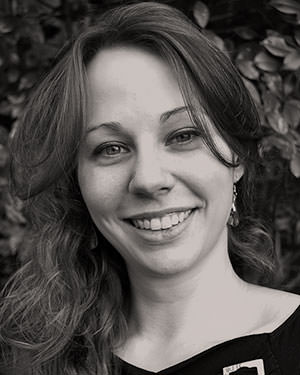 Katherine Hosier

Vittoria (Mezzo-soprano)
Ms. Hosier obtained a Master of Music degree in Vocal Performance and Bachelor of Science in Music Education at Towson University. She studies with Dr. Leneida Crawford. Ms. Hosier has appeared with Young Vic as Cousin Hebe in HMS Pinafore, and as a chorus member in Yeoman of the Guard and Iolanthe. Ms. Hosier has appeared in several roles at Towson University, including Orlando in Pasticcio Furioso, Prince Orlofsky in Strauss' Die Fledermaus, and Terentia in John Duke's Captain Lovelock. She has also performed in Germany as Jenny Diver in Kurt Weill's Threepenny Opera. She currently works as an Elementary School music teacher in Baltimore County, and is the alto soloist at Roland Park Presbyterian Church.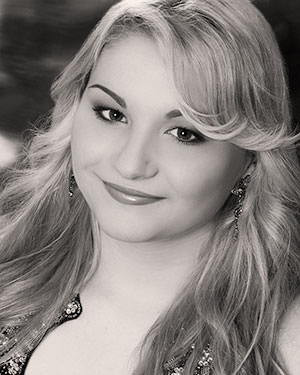 Elizabeth Wiley

Giulia (Mezzo-soprano)
Ms. Wiley first performed with Young Vic last year as a chorus member in HMS Pinafore. She attends the San Francisco Conservatory of Music in California where she is a James L. Schwabacher, Jr. Scholar and studies Vocal Performance. In 2013, Elizabeth was a first-place winner in the high school division of OperaLancaster Associates Student Vocal Competition. In 2011 and 2012, Elizabeth placed first in the High School Women's Division of the Allegheny Mountain Chapter's National Association of Teachers of Singing Student Auditions. She has attended many summer performing arts programs, including the Interlochen Arts Camp, Walnut Hill's Summer Opera Intensive, Boston University's Tanglewood Institute and Washington National Opera's Opera Institute. In 2011, she peformed the part of Aline in Gilbert & Sullivan's The Sorcerer at the 17th International Gilbert & Sullivan Festival in Buxton, England. Her permanent home is York, PA.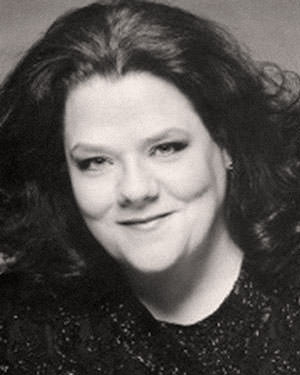 Leneida Crawford

Inez (Mezzo-soprano)
Ms. Crawford is well known as a soloist in oratorio and recital venues as well as opera. She has championed American music through concerts and masterclasses in Beijing and Shanghai, China, Vienna and Mürzzuschlag, Austria, Mexico City, and throughout the United States. Dr. Crawford was acclaimed as "an exceptional new performer" by Andrew Porter in The New Yorker after appearing in the Maryland Handel Festival's production of Agrippina.
She has appeared as soloist at Carnegie Hall, Avery Fisher Hall, Kennedy Center, and the Meyerhoff Symphony hall. This spring she will perform the role of Marcellina in Le Nozze di Figaro with Hub Opera in Hagerstown, MD. Recently she appeared with Opera Fairbanks as Dame Quickly in Falstaff where she appeared previously as Suzuki (Madama Butterfly) and the Mother (Little Red Riding Hood).
Other opera company credits include the Santa Fe Opera, Juneau Lyric Opera Des Moines Metro Opera and others. Dr. Crawford has recorded on the VOX and Albany (Boris Blacher's Romeo and Juliet) labels and has appeared on CBS and PBS. Currently she is completing production of a CD of American Art Songs with collaborative pianist, Susan Ricci, as well as a CD of music for voice and guitar with Troy King. Dr. Crawford is a Professor of Voice at Towson University in Baltimore, Maryland. She teaches applied voice and vocal diction. She also team teaches Vocal Literature and Pedagogy and has been the assistant director for Music for the Stage (opera workshop). In the summer, she has been on the faculty of the Fairbanks summer Arts Festival and the American Institute of Musical Studies (AIMS) in Graz, Austria.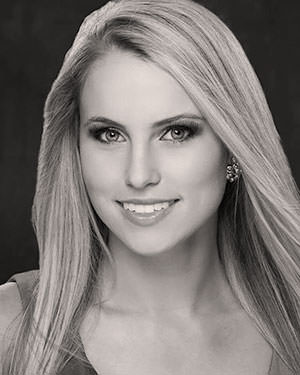 Christina Denny

Solo Dancer
Ms. Denny was a competitive gymnast for 15 years growing up, and also an avid runner, running varsity cross-country and track and field all four years of high school. In college at the University of Maryland, College Park, Christina was a cheerleader for the Terps, cheering home and away football and basketball games. While at UMD, Christina majored in Hearing and Speech sciences. She also began working as an Applied Behavior Analysis (ABA) therapist, tutoring a young girl on the autism spectrum, whom she still works with 2-4 times per week. It was working as an ABA therapist which inspired Christina to pursue "Special Deeds for Special Needs" as her personal platform in the Miss America Organization. Christina has volunteered as a Special Olympics coach, coaching track and field and basketball, and is currently on the board of directors of Karina Association, a program which provides art therapy for those with various developmental and physical disabilities, and respite for their parents, at a monthly session called Karina Cafe.
Through ABA Therapy and her volunteer work, Christina developed a love for teaching which was continued through her work last year working as a Special Education teacher at Echelon Academy in Olney, MD. Making a difference in the lives of children and young adults is something that Christina has always had a passion for and she hopes to continue to positively influence the lives of those living with developmental disabilities, as well as their families, in the field of education.
Christina began competing in pageants at 13 years old, but didn't discover the Miss America Organization until her freshman year of college while looking for scholarships. After four years of working towards the Miss Maryland title, she was crowned Miss Maryland 2013 this past June. She continues to work with her personal platform, and also the national platform of the Miss America Organization, Children's Miracle Network. Christina plans to attend graduate school in the future to pursue her masters degree in Speech-Language Pathology. Her goal is to open a preschool for children with developmental disabilities in the future. Christina competed for the title of Miss America this past September in Atlantic City, New Jersey, where she placed in the top 10 overall and top 6 in interview. Christina is excited to appear in The Gondoliers as her professional acting debut.