Venue
Entrance
Enter Roland Park Country School (RPCS) through the main entrance on Roland Avenue.
Parking
General and handicapped parking is available on campus. You are invited to use the designated curbside drop-off zone near the entrance and then find a parking space. See the campus map below or download this PDF for printing.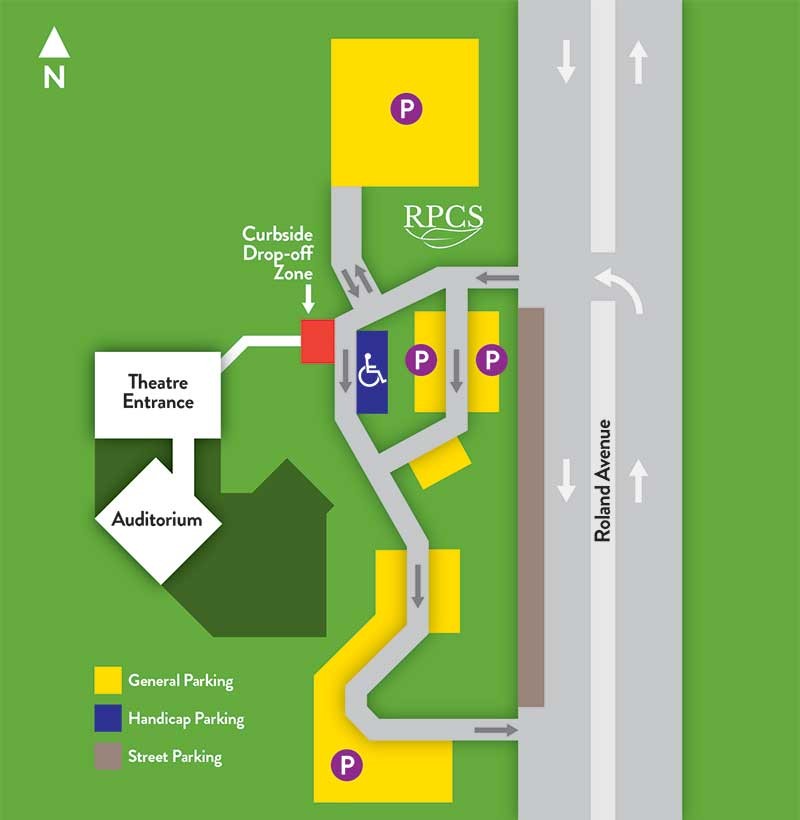 Theatre Entrance
The theatre entrance is clearly marked with a curbside drop-off zone. There is a gently-sloped handicapped accessible sidewalk to the doorway. If you need assistance, a courtesy cart is available to shuttle patrons from the drop-off zone to the entrance.
Once inside the building, there is a gently-sloped handicapped accessible hallway to the auditorium lobby.
Assistance
From the curbside drop-off zone, a courtesy cart is available to shuttle patrons to the entrance. Inside, ushers are available assist you to your seat. Please note, if you have trouble navigating steps, make sure to select a seat closer to the back of the auditorium. All seats have excellent sightlines and acoustics. Patrons limited to a wheelchair must order tickets by calling the box office to ensure seating will be available.
Seating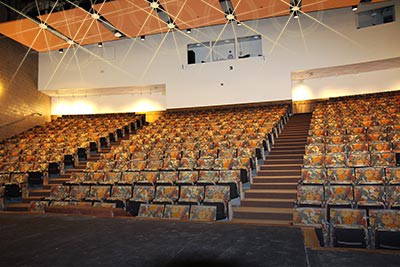 The theatre features excellent acoustics and views of the stage with its "stadium" auditorium seating style, where each row is elevated above the previous row. As a result, please note that the auditorium aisles do have steps. If you have difficulty navigating steps, you may prefer to choose a seat closer to the back of the auditorium. Please call the box office if you need help selecting a comfortable seating location.
Projected Surtitles
All performances are enhanced with projected surtitles above the auditorium stage. Many patrons find that these super titles allow them to enjoy the show even more, while appreciating the subtleties and wordplay of Gilbert's lyrics.
Air Conditioning
The theatre is air conditioned for the comfort of our audience. And while we make every effort ensure that everyone is comfortable, some patrons choose to bring a light sweater or jacket. While the auditorium may initially feel chilly, it does get warmer as the stage lights heat up and the seats fill with people.
Tickets
Tickets are on sale from early April up to the final performance. While some seats may be available at show time for walk-up patrons, we recommend that you reserve seats prior to the performance. For most patrons, tickets can be easily ordered online through our ticketing partner, tix.com.
Group Sales Discount
Our shows are great fun for patrons of all ages. So why not get together a group and save some money? Tickets are 10% off for groups of 10 or more attending the same performance. The discount is automatically applied whether buying tickets via phone or online. Please note that group discounts are not available for Family Night since tickets are already discounted.